It's been awhile since I've posted anything on this blog. I have been busy this summer, but last week I realized I had some gorgeous orchids in bloom and was missing a great opportunity... So, I took out the camera and started taking photographs. Right now I have white orchids in bloom, as well as gorgeous purple orchids and yellow orchids too. The wonderful thing about orchids is that the blooms seem to last forever which appeals to the procrastinator in me. However, there does come a time when they do fade away along with their beauty.
The truth is nothing says wedding like a beautiful orchid, so after I created my photographs, I started working on some great orchid wedding invitations. I got a little carried away and created not only orchid wedding invitations, but also orchid rsvp invitations, orchid wedding postage, orchid wedding thank yous, orchid save the dates, etc... I think you get the idea, I created orchid invitation heaven for the white and purple orchids. Still working on the yellow orchid invitations!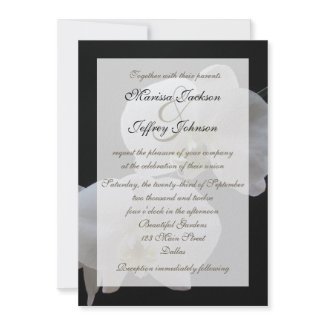 Orchid Wedding Invitation -- White Orchids
by
henishouseofpaper
Even more exciting is Zazzle now has introduced custom envelopes so for the first time I was able to make matching envelopes for my orchid wedding invitations.
I just realized this blog is really about passion. It all started with a passion for orchids -- I have many of them. Then my passion for designing wedding invitations met with my orchid passion; and now my passion for writing meets with all the other passions. It's truly incredible when all your passions come together to make something really wonderful. I just hope my orchid wedding invitations will be well received because that is what makes it all worthwhile when someone else appreciates your hard work too.